Autumn Pear Bread.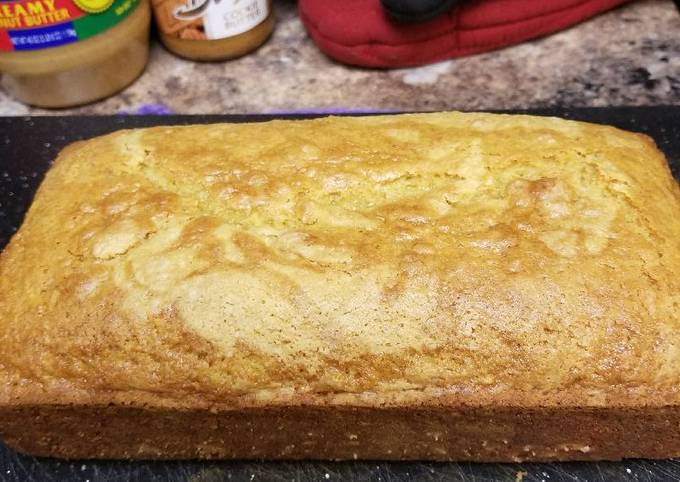 You can have Autumn Pear Bread using 11 ingredients and 8 steps. Here is how you make that.
Ingredients of Autumn Pear Bread
It's 2 cups of flour.
Prepare 1 cup of sugar.
You need 1 tsp of baking powder.
You need 1/2 tsp of baking soda.
Prepare 1/2 tsp of salt.
You need 1/8 tsp of ground nutmeg.
You need 1/2 cup of butter or margarine.
Prepare 2 of eggs.
You need 1/4 cup of buttermilk.
It's 1 tsp of vanilla extract.
You need 1 cup of finely chopped peeled ripe pears.
Autumn Pear Bread instructions
In a large bowl, combine flour, sugar, baking powder, baking soda, salt, & nutmeg. Cut in butter until it resembles coarse crumbs..
In a small bowl, beat eggs, buttermilk, & vanilla. Stir into dry ingredients just until moistened..
Fold in pears..
Pour into greased 9×5 inch loaf pan..
Bake at 350 for 55-60 minutes or until toothpick inserted into center comes out clean..
Cool in pan for 10 minutes. Remove from pan. Slice & Serve immediately..
Tip # 1: You can use gluten-free flour cup for cup. The kind I use is a mixture I found on Pinterest. The ratio is 1 cup corn flour to 1 cup Brown rice flour to 1 cup cornstarch. I use it just like regular flour in most recipes. Without adjustments in measurements..
Tip #2: You can make dairy free buttermilk, by using soy milk (or your favorite kind of milk). First add 1/4 tbsp of white vinegar or lemon juice to the measuring cup. Then add enough milk (of your choice) to reach 1/4 cup. Stir. Let sit for about 2 minutes. Then it's ready to use. The ratio is 1 tbsp vinegar/lemon juice per 1 cup of milk..