Grilled Chicken Soul Salad with Cilantro Lime Rice and Mango Salsa.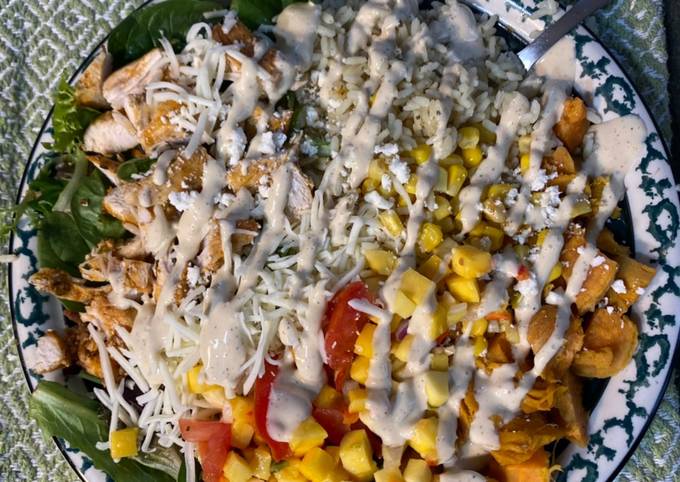 You can make Grilled Chicken Soul Salad with Cilantro Lime Rice and Mango Salsa using 30 ingredients and 13 steps. Here is how you make it.
Ingredients of Grilled Chicken Soul Salad with Cilantro Lime Rice and Mango Salsa
Prepare of Cilantro Lime Rice.
You need 1 cup of Basmati or Long Grain Rice.
Prepare of Finely grated lime zest (1 lime).
You need 3 tbsp of lime juice.
You need 1 tsp of salt.
It's 2 tsp of Kerrygold butter.
Prepare of 1 cup chopped cilantro.
It's of Grilled Chicken.
It's of Thinly sliced chicken breast (3-6 cutlets).
Prepare of Oregano.
It's of Tajin.
It's of Adobo.
You need of Kerrygold Garlic Herb Butter.
You need of Mango Salsa.
It's of Diced Mango.
It's of Red peppers.
You need of Red onion.
It's of Lime juice.
Prepare of Cilantro.
Prepare of Ginger.
You need of Diced tomato.
It's of Toppings.
It's of Kale & Baby spinach mixed greens.
Prepare of Feta cheese.
You need of Mozzarella cheese.
You need of Sweet corn.
It's of Roasted sweet potato.
It's of Diced Roma or cherry Tomatoes.
Prepare of Caesar dressing.
It's of Diced avocado.
Grilled Chicken Soul Salad with Cilantro Lime Rice and Mango Salsa step by step
Make your Cilantro Lime Rice: Wash the rice. It'll take about 3-4 rinses but keep repeat how ever many times it take you until the water runs clear. Minimal start start is KEY unless your making sticky rice..
Put your rinses rice in a pot, preferably one with a tight fitting lid or you can use aluminum foil as a cover. Pour enough water in the pot for it to be just above the rice. The water should be about a 1/2 inch above the rice. You can also use your index fingernail as a reference..
Add butter,salt,lime zest, and lime juice to the rice. Bring to a rolling boil, then cover and lower the heat to low to maintain a very low simmer..
Keep the rice covered the ENTIRE cooking time. Roughly 15-20 minutes or until all the water is dissolved. Pots with clear lids come in handy for this..
Fluff with a fork and set aside for later..
Make your grilled chicken: Marinate cleaned thinly sliced chicken breast with adobo, Tajin, and oregano for at least an hour. (Overnight is even better) Season to your liking; I don't really measure 🙃.
Melt Kerrygold butter in a pan and Grill chicken on medium high heat. About 5-6 min on each side..
When cooked through, turn heat off and let chicken rest while you prep your mango salsa..
Dice ripe mango, red peppers, tomatoes, red onion, and cilantro into small cubes. Squeeze a little lime juice over them and mix. Set it aside..
Remove your rested chicken from the pan and dice it up..
(Optional) Heat up sweet corn on stove top or in oven. Set aside..
Assemble your salad. Layer mixed greens, cilantro lime rice, grilled chicken, mango salsa, sweet corn, diced tomato, avocado, diced sweet potato, crumbled feta cheese, mozzarella cheese, and a drizzle of Caesar dressing..
ENJOY!.