Easy crockpot beef and broccoli. In a large slow-cooker, add steak. Add beef broth, soy sauce, brown sugar, sesame oil, Sriracha, garlic, and green onions. In a small bowl, whisk cornstarch and cold water until smooth; stir into slow cooker.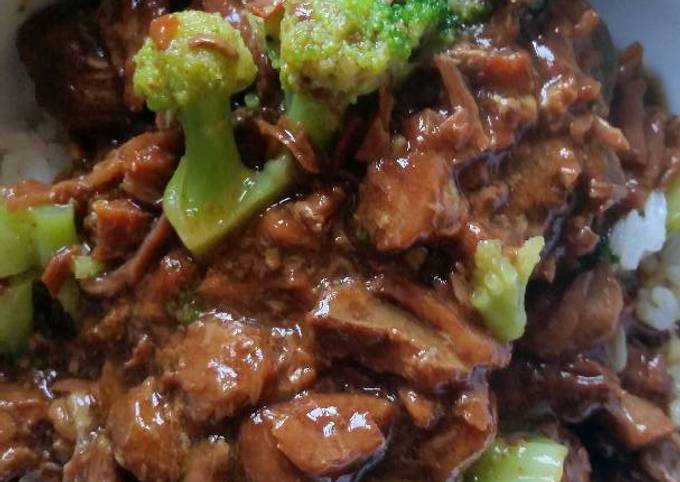 Place slices of beef in the liquid and toss to coat. Pour into crock pot, add the broccoli and gently stir to combine. Place everything in the slow cooker except the broccoli, cornstarch, and the sesame seeds. You can have Easy crockpot beef and broccoli using 9 ingredients and 5 steps. Here is how you achieve that.
Ingredients of Easy crockpot beef and broccoli
Prepare 2 1/2 c of Beef broth.
Prepare 1 Tbs of minced garlic.
It's 3/4 c of low sodium soy sauce.
It's 1/2 c of brown sugar.
It's 2 Tbs of sesame oil (pricey but 1 bottle makes this over and over).
Prepare 2-3 lb of lean stew meat.
You need 4 Tbs of corn starch.
You need 1 bag of frozen broccoli.
You need of White rice.
Remove ¼ cup of the cooking liquid and whisk in the cornstarch. Slowly stir in the mixture into the slow cooker. Add beef to crockpot, then pour the sauce on top. Whisk cornstarch into the liquid mixture, then add the mixture back into the crockpot and stir.
Easy crockpot beef and broccoli instructions
In crockpot whisk together broth, garlic, soy sauce, brown sugar, and sesame oil..
Add stew meat, cook on low for 4-6 hours. (6-8 if, like me, you're putting the meat in frozen).
Mix corn starch with 1 c liquid from crock pot. Stir mixture into beef..
Add frozen broccoli on top. Cook another 30 minutes..
Serve over prepared white rice. (Or low mein noodles).
Combine all ingredients except cornstarch and broccoli in a slow cooker. Add broccoli to the slow cooker and cover. Place the beef in the bottom. In a small bowl, stir together the beef broth, soy sauce, oyster sauce, honey, rice vinegar, chili-garlic paste, and garlic. Pour over the beef, then stir to combine.