Sig's Potato and Vegetable Casserole.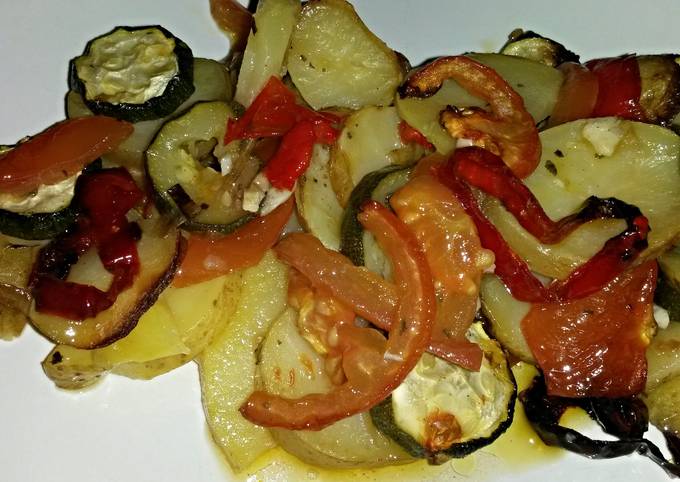 You can have Sig's Potato and Vegetable Casserole using 10 ingredients and 8 steps. Here is how you make that.
Ingredients of Sig's Potato and Vegetable Casserole
It's 1 kg of firm potatoes , I use salad potatoes.
It's 3 medium of to large zucchini.
Prepare 3 of to 4 large tomatoes on the vine.
It's 3 of Long sweet Italian peppers.
You need 6 large of cloves smoked garlic.
Prepare 1 bunch of flat leaf parsley.
It's 1 cup of (small) olive oil.
You need 1 of and 1/2 cup (small) hot water.
Prepare 1 each of Good pinch of salt and pepper , I use cayenne pepper.
It's 1 pinch of small of turmeric (optional).
Sig's Potato and Vegetable Casserole step by step
First slice the washed unpeeled potatoes thinly , then slice the zucchini into slightly bigger slices . Next slice the tomatoes and the peppers and chop the parsley finely.
Next chop the garlic finely.
Heat 1 and 1/2 cup of water to boiling point in kettle or pot.
Now lay the first layer of potato slices into the bottom of your stone or glassware casserole dish follow with a layer of zucchini , then tomatoes and then peppers , sprinkle some of the chopped parsley and then with the garlic and some salt and pepper, and a small pinch of turmeric..
Then repeat the layers one more time, potatoes , zucchini, tomatoes , peppers , garlic , parsley, salt and pepper. This time there is no need to add more turmeric..
Now whisk the hot water and oil together and gently pour over the vegetables.
Bake in a oven at about 180 C for about 60 minutes , turn oven off and leave to stand for about 10-15 minutes before serving ..
This can be served as a vegetarian starter or main meal or served with pork schnitzel , steak or chicken.