Straw/Blueberry Pie.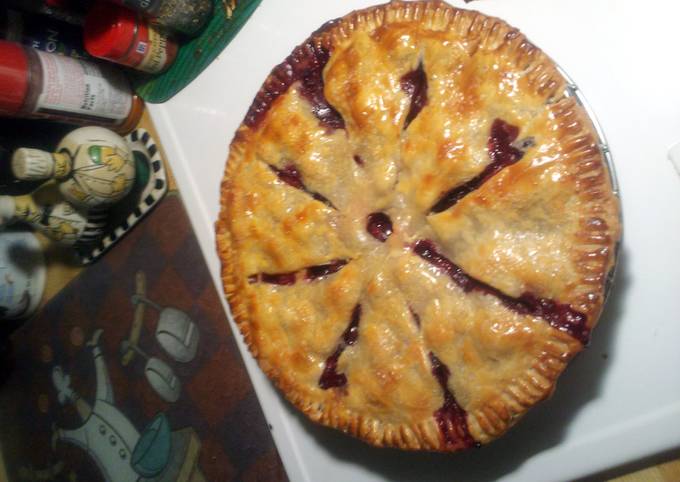 You can make Straw/Blueberry Pie using 14 ingredients and 10 steps. Here is how you achieve it.
Ingredients of Straw/Blueberry Pie
It's 2 pints of blueberries.
It's 1 pints of strawberries.
Prepare 3 tbsp of of cornstarch.
Prepare 1/2 tsp of cinnamon.
You need 1 pinch of nutmeg.
Prepare 2 tbsp of Honey.
Prepare 1 tbsp of lemon juice.
It's 1 of whole lemon "zested".
You need 1 tsp of real vanilla extract.
Prepare 1/4 cup of of Sugar in the raw.
You need 6 pinch of of butter for top of fruit.
Prepare 1 of -9 inch double pie crust.
You need 1 tbsp of of sour cream.
It's 1 of egg yolk.
Straw/Blueberry Pie step by step
Preheat over at 400°.
Slice strawberries n add blueberries to bowl.
Add cornstarch, lemon juice, lemon zest, Sugar in the raw, honey, vanilla, nutmeg n cinnamon-mix carefully-put aside.
Add bottom crust to pie pan n pour berries into crust.
Dot berries with a few pinches of butter.
Top fruit with crust-seal and fork or flute.
Slice grooves in top crust for steam release.
Mix egg yolk n sour cream together n brush top crust evenly-lastly sprinkle with a tblsp of sugar in the raw.
Place on cookie sheet-Put in the oven for 35-40mins…crust will brown n juice will start to bubble out when done.
Cool on rack…slice n top with whip cream or vanilla ice cream ;-).