Mimi's Cheesecake with Oreo Base.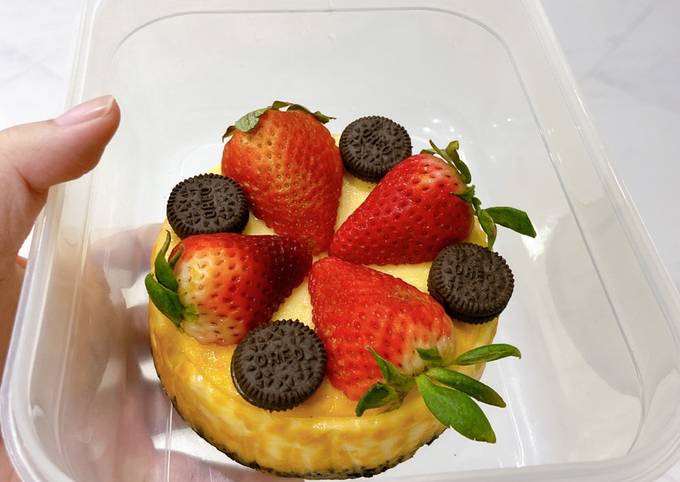 You can have Mimi's Cheesecake with Oreo Base using 15 ingredients and 10 steps. Here is how you make it.
Ingredients of Mimi's Cheesecake with Oreo Base
Prepare of Oreo base.
Prepare 120 g of Crushed oreo.
It's 30 g of Unsalted butter (melted).
It's of Cheesecake batter.
You need 250 g of Cream cheese.
You need 40 g of Granulated sugar.
It's 1.5 tbs of Corn flour.
You need 2 of Eggs (No. 3).
Prepare 105 g of Sour cream.
Prepare 105 g of Whipped cream.
You need 1 tsp of Vanilla extract.
Prepare 1 tsp of Lemon juice.
It's of Decoration.
Prepare of Strawberries.
Prepare of Tiny oreo.
Mimi's Cheesecake with Oreo Base step by step
For the base, mix "crushed oreo" and "melted unsalted butter" together and line it up on the cake tray.
For the cheesecake batter, start by using spatula to mix "cream cheese" and "sugar" until smooth.
Then, sift "corn flour" into the batter.
Follow by, adding eggs once at a time and mix until smooth and let it aside for a bit.
In another bowl, mix "sour cream" and "whipped cream" and "vanilla extract" and "lemon juice" together.
Pour the sour cream batter into the main cheesecake batter and mix until smooth.
Pour on top of the oreo base and prepare to bake.
Bake at 160C for 45 minutes.
Take it out of the oven and let it cool down before fridge it for at least 4 hours before serving.
Decorate usinf strawberries and tiny oreo or whatever as you please.