Bruschetta. This tomato bruschetta with ricotta salata is a perfect appetizer for dinner parties and a definite crowd pleaser. This is a great garlicky bruschetta recipe. Serve it on slices of French bread.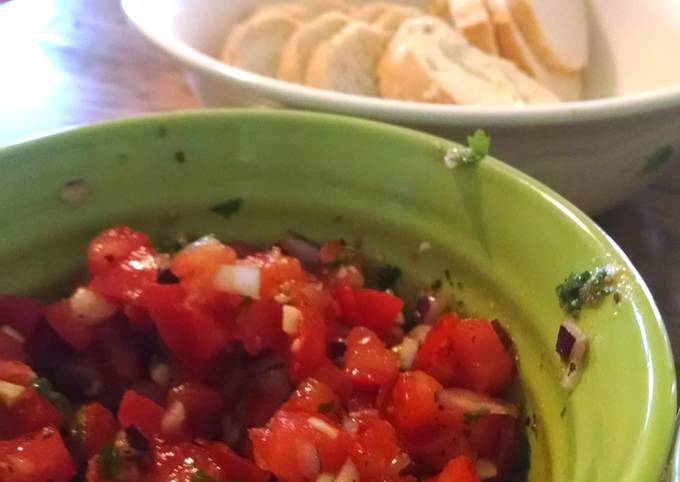 Slice the bread into individual pieces and spoon the mixture on top. Ina Garten tops these toasted bread rounds with sweet sauteed peppers and creamy Gorgonzola cheese. There are many different varieties of bruschetta, though sometimes they might be called crostini or crostoni instead (crostini being small versions made from cross-sections of a baguette and crostoni being very large slices). You can make Bruschetta using 9 ingredients and 3 steps. Here is how you make it.
Ingredients of Bruschetta
It's 3 of plum tomatoes.
You need 1 cup of Red onion.
You need 3 clove of garlic.
It's 3 of basil.
You need bunch of cliantro.
You need of salt.
Prepare of black pepper.
You need of italian seasoning.
You need 1 tbsp of olive oil.
But the most well-known version of bruschetta is simply made with grilled slices of bread rubbed with raw garlic and topped with chopped tomatoes, fresh basil, and salt. Bruschetta (/ b r uː ˈ s k ɛ t ə /, / b r uː ˈ ʃ ɛ t ə /, Italian pronunciation: [bruˈsketta] ()) is an antipasto (starter dish) from Italy consisting of grilled bread rubbed with garlic and topped with olive oil and salt. Variations may include toppings of tomato, vegetables, beans, cured meat, or cheese. In Italy, bruschetta is often prepared using a brustolina grill.
Bruschetta step by step
Chop up ingredients.
Mix together chopped ingredients with salt, black pepper, cilantro, basil, and olive oil..
Serve with bread.
The true flavor of the bruschetta is on the "sauce" that forms from the tomatoes'juices, olive oil, and seasonings marinating together. To keep the bread from getting soggy, make sure it is well toasted, and use a slotted spoon to serve, if desired. In a large bowl, mix the onions, tomatoes, garlic and basil, taking care not to mash or break up the tomatoes too much. Add the balsamic vinegar and extra virgin olive oil. In a large bowl, combine oil, basil, garlic, salt and pepper.