Tj's bruschetta with feta cheese and lentil. Trader Joe's Lentil Bruschetta Feta Dip is a quick and easy throw-together idea that is great for cookouts, game nights, parties, or even a light lunch! The original version uses just three Trader Joe's products (lentils, bruschetta sauce, and feta cheese), but this one breaks things down just a bit more to take advantage of garden fresh summer tomatoes when they are in season. Trader Joes Bruschetta, Lentil and Feta Cheese Dip Recipe TRADER JOE'S BRUSCHETTA, LENTIL & FETA CHEESE DIP RECIPE.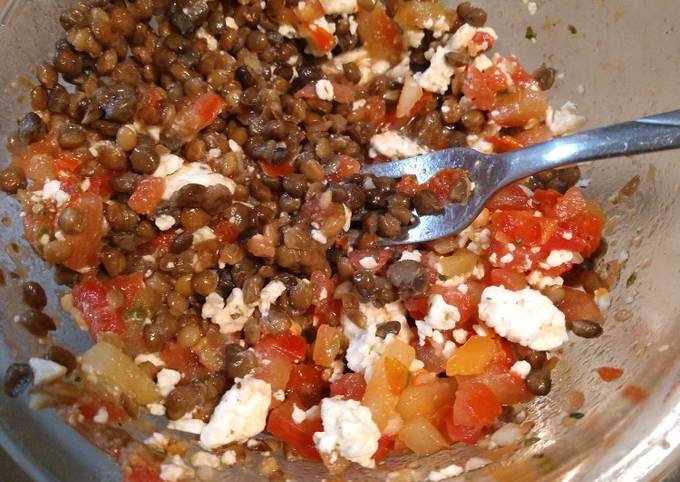 Ingredients. ½ Container Trader Giotto's Fresh Bruschetta Sauce. ½ Container Trader Joe's Steamed Lentils, Ready to Eat. ½ Container Trader Joe's Fat Free Crumbled Feta. Juice from ½ of a Fresh Lemon. ¼ Cup Extra Virgin Olive Oil. Kosher Salt & Fresh Ground Pepper to Taste. You can make Tj's bruschetta with feta cheese and lentil using 5 ingredients and 3 steps. Here is how you make that.
Ingredients of Tj's bruschetta with feta cheese and lentil
You need 1 bag of steamed lentils (17.6oz).
It's 1 package of Bruschetta sauce (14.5oz).
It's 1 package of crumbled feta cheese (6oz).
Prepare of to serve:.
You need of Water crackers or corn chip dippers.
Combine all of the ingredients in a small bowl. Adjust to taste with more feta or bruschetta sauce or both. The post should end here with a, "Bye! Have a nice summer!" but believe it or not, you may run into some roadblocks: The.
Tj's bruschetta with feta cheese and lentil instructions
The first 3, put them in a bowl, mix..


Eat with the last 2..

Enjoy!.
Gently warm some green olives in olive oil with chili flakes and lemon peel, then pour the mixture over a shallow bowl of Organic Crumbled Feta Cheese, and serve with crusty bread for dipping. Or, mix it with TJ's Fresh Bruschetta Sauce and Steamed Lentils for an instant appetizer, side dish, or light lunch. If you don't live near a TJ's, you can always adapt this concept to use what you have on hand or have access to at your local grocery store. Just open your lentils and dump them in a bowl. Add Feta (to taste–you can use the whole container or less depending on how Feta-y you like things).